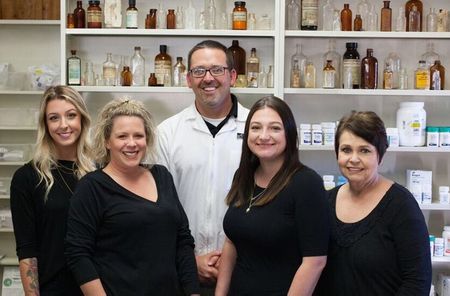 About Us
W.F. Thomas Drugs, Inc. was established in Austell, Georgia in 1975 by William F. "Willie" Thomas, as an independent pharmacy serving Cobb County. Willie had been a partner in two other independent drug stores since his graduation from The Southern School of Pharmacy in 1956, and decided to start his own business. By working seven days a week to provide fast, friendly service to local families, he was successful in growing recognition for his store.
Anthony Griffith came to work for Willie in the early eighties, and their personalities meshed perfectly to continue to provide a professional and caring place for the community to have their prescription needs met. As the industry changed with increases in technology, Thomas Drugs was up to the challenge – being one of the first local stores to adopt computer equipment for prescription processing and insurance claim transmission.
By keeping up with a growing and changing market, Thomas Drugs was able to expand their reach to serve the tri-county area of Cobb, Douglas, and Paulding. More business required more staff, and following several years of internship, Matthew Thomas joined the team as a pharmacist in 1992.
After graduating from Mercer in 2001, Ryan Chavers began his professional career in the independent pharmacy business – a business he had started learning at the age of 16 when he took his first job as a pharmacy delivery boy. Ryan began working as a staff pharmacist under Anthony and Matthew in 2003, and in 2015 he became the sole owner of Thomas Drugs after many years of partnership. Under his new ownership, Ryan has added free delivery to the many services that Thomas Drugs already offers because he remembers how important that was to the customers that he served when he was just a teenager. He strives to maintain the same ideals that Willie started with: professional, friendly service in a timely fashion with competitive pricing. At Thomas Drugs, we look forward to serving each patient with a smile and making sure that our community can depend on us for another 40 years!